Activities at Sea Breeze Candidasa
There some of activities we would possible arrange & prepare for our guests:
Cooking Class
Trekking
Beach activities: boat ride, swimming, snorkeling & diving (in the private beach right in front of Sea Breeze or other nearby beaches)
Balinese Dancing Class
Wedding
Tourist destination around the Candidasa / East Bali area: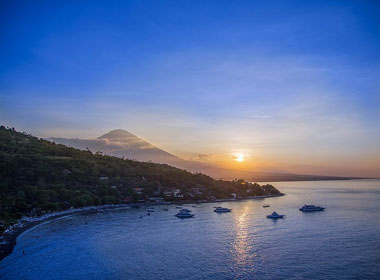 Amed
Amed is located on the north-eastern tip of Bali; it is stretching through seven villages of Amed, Jemeluk, Bunutan, Lipah, Selang, Banyuning and Aas. Located about 2 hours 30 minutes drive from Bali's International Airport. Amed is offering a sedate lifestyle with coastal view.
It is a favorite honeymoon destination for newly couples and very popular with divers and snorkeling. People in Amed are making living from fishing, salt-making and tourism. Traditional outrigger boats are available for fishing charters from the main beaches in the Amed area.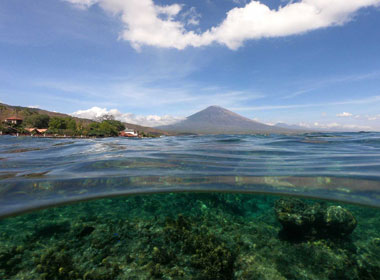 Snorkeling places:
Tulamben
Tulamben is a small fishing village, 30km north of Amed, about 20 minutes drive from Amed. Tulamben is renowned for its attraction for diving site and the shipwreck of USS Liberty.
The Liberty is a US Army transport ship torpedoed by a Japanese submarine in 1942. The wreck lies about 30 meters offshore and now it is absolutely covered in soft corals. A huge range of reef fish has made this their home and occasional pelagic visit as well. It is the home of marine life.
Japanese Shipwreck in Banyuning, small ship at 20m from the beach, awesome corals with tons of fish
Jemeluk, with beautiful coral formations and wo
nderful and abundant fish.
Small wooden shipwreck at Lipah Beach
Bunutan
Selang beach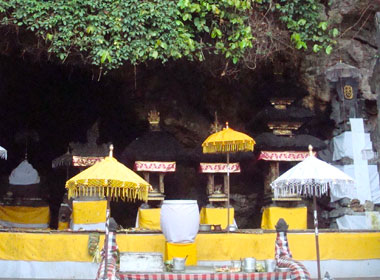 Goa Lawah/ Bat Cave
Goa Lawah temple and bat cave is one of Bali's key nine directional temples and serves as the protector against dark spirits from the ocean. The cave here is a well known bat's habitation. On the north side of the coast road about 10 kilometers west of Candidasa, close to Padang Bai.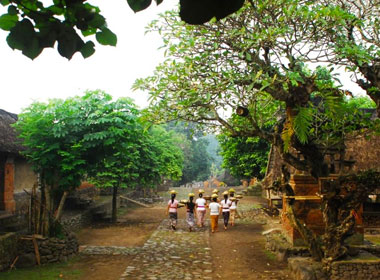 The Bali Aga at Tenganan
Located about 4 kilometers from Candidasa, the Bali Aga at Tenganan is the most famous Bali Aga (original Balinese) village. The Bali Aga people have preserved an ancient pre-Majapahit Balinese culture and this is plain in the differences from the rest of Bali.
The craftsmanship of Bali Aga at Tenganan is the unique double weave ikat fabric called Geringsing is made here and Tenganan produces what is probably the best basketwork anywhere in Indonesia.
The village is road signed from the main road in Candidasa and easy to find the way to the village.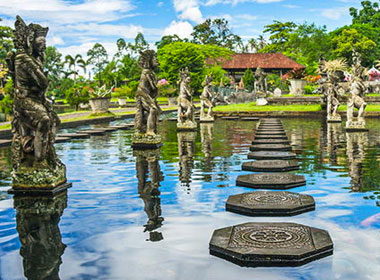 Tirta Gangga
Literally the meaning of Tirta Gangga is water from the Ganges and it is a site to pray to for the Hindu Balinese. Accurately, the name refers to the water palace built here in 1946 by the King of Karangasem. Tirta Gangga is a trendy side trip from the nearby coastal resort towns of Amed and Candidasa.
The Tirta Gangga water palace is a complex of pools and fountains enveloped by a green garden and stone carvings and statues. The one hectare complex was built in 1946 by the late King of Karangasem but it was destroyed almost entirely by the eruption of Mount Agung in 1963 before it rebuilt and restore into its state right now.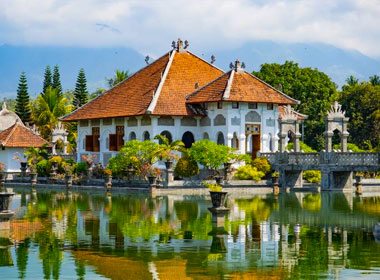 Taman Ujung
Taman Ujung is located at the southeast of Karangasem (Amlapura) is another water palace built by the ancestor of the King who constructed Tirta Gangga. Taman Ujung was built in 1909 as a relaxation and recreation palace by the late King of Karangasem, I Gusti Bagus Jelantik.
It was destroyed for the most part by the eruption of Mount Agung in 1963, and got damaged again by an earthquake in 1979, and has not been restored on the same scale as Tirta Gangga.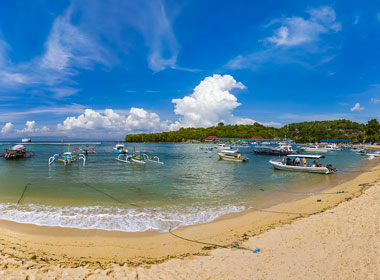 Padang Bai
Padang Bai (also renowned as Padangbai or Padang Bay) is a small harbor in East Bali that serves the transportation by sea to Lombok Island. Padang Bai is located about 54 kilometers east from Denpasar and takes about one hour thirty minutes drive from Kuta and Legian.
Padang Bai is also the best site for diving and snorkeling in Bali, and a number of operators are present to cater for those activities.
Gili Trawangan, Gili Meno, Gili Air, Lombok
35% to 50% off discounts on fast boat tickets.